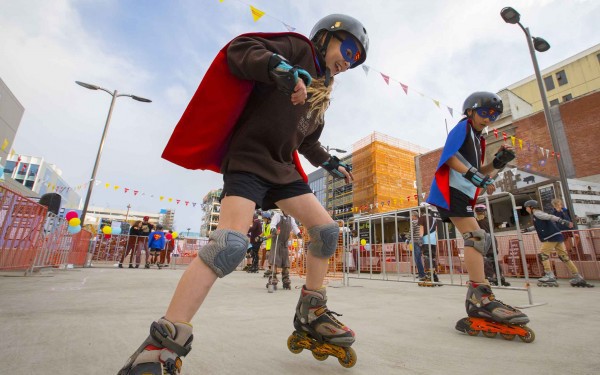 A pop-up roller skating event in the central city pulled in a crowd of children – many of them dressed as super heroes in capes and masks.
The Wonder Wheels event, supported by urban regeneration initiative Gap Filler, was organised by Year 6 students from Selwyn House School as a school project.
It was held at Spark Park, on Hereford St, on the site of the now demolished Telecom Exchange Building which is now a public space brokered by Life in Vacant Spaces.
Selwyn House students tried out roller skating at the site yesterday afternoon and from 4pm until 6pm families, members of the public and business mentors were invited to join in.
The Selwyn House students have been working with Gap Filler as part of their education programme this year. They came up with the idea of creating a fun, family-friendly activity that would bring some colour back into the central city.
Jennifer Shepherd of Selwyn House School said the girls involved in the project are only 10 and 11 years old. "It is amazing to see a group of young girls take an interest in adding "life" back into a city which was badly damaged when they were only two and three years of age."
Gap Filler Learning Facilitator Sally Airey said this kind of learning experience gave students the chance to make a real contribution to the city and helped make it a more vibrant place to live. "We hope that this event encourages others to use this and other vacant sites in creative and fun ways."
POSTED BY: Jennifer Shepherd Date: 15th Sep 2017