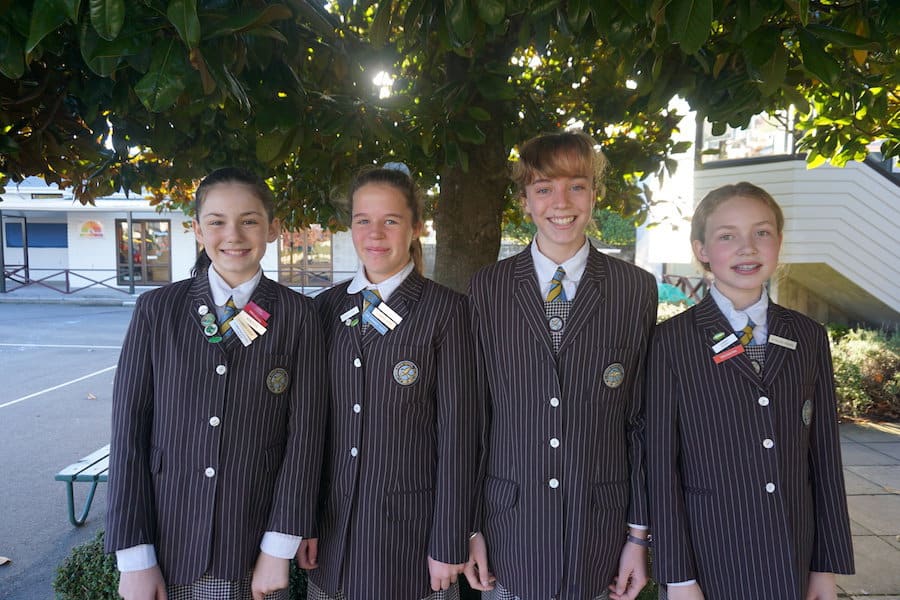 FOUR SELWYN House pupils have won boasting rights and two rather large trophies in an international problem-solving competition. Year 8s Emma Cawood, Emily Cox, Hermione Murden and Hannah Berrill were ranked second and fourth in the world in two categories of the Future Problem-Solving International competition. Their
Their middle-grade second spot was for the "presentation of an action plan" category, which involved presenting an action plan to judges about a global issue.
Teams were given a roll of tape, pens and pencils, coloured paper, pipe cleaners, a magazine, paper towels, tin foil and a garbage bag and were asked to create a performance.
They were also ranked fourth in the world for the middle grade "global issues problem-solving" booklet category, the main round of competition. Future problem-solving is an international education programme which develops creative, critical and thinking skills. Participants researched a series of global topics and a six-step creative problem-solving process.
The girls then applied their topic and creative problem-solving knowledge to address an issue presented in an imagined situation and create a booklet to solve it. They travelled to the University of Wisconsin–La Crosse, United States, to compete at the start of June and returned to school yesterday with medals and two trophies.
Students and pupils from Australia, China, Hong Kong, India, Japan, Korea, Malaysia, Portugal, Singapore, Turkey, the United Kingdom and the United States competed in the five-day competition between June 7-11.
POSTED BY: Jennifer Shepherd Date: 20th Jun 2017