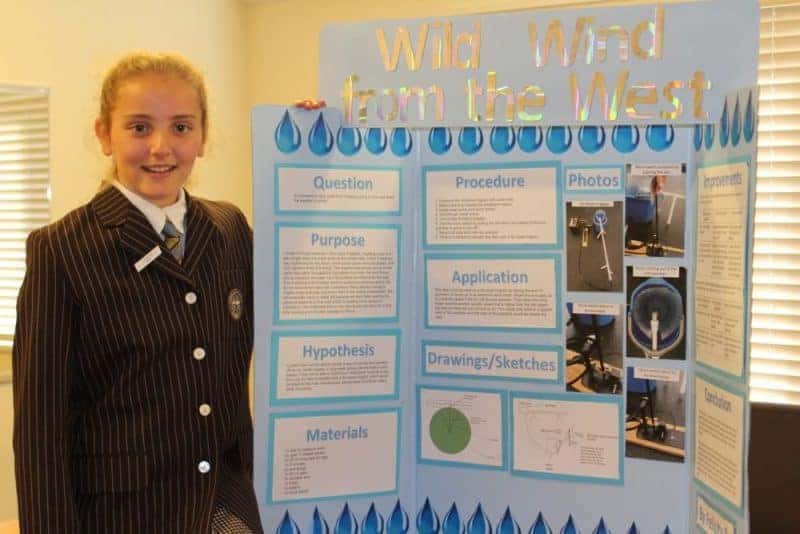 Not many 11 year old girls would consider building an irrigation prototype. But Felicity Pye is not your average Year 7 student.
The Selwyn House student created an irrigation model to solve a pressing problem – how to stop irrigators spraying on the road in windy conditions.
Students had to explore an issue that concerned them and come up with a science or technology solution. Felicity, who originates from a farm near Dorie in Central Canterbury, focused on irrigation water sprayed on roads.
"We drive past irrigators on the way to school and quite a few are watering on the road. It gives you a fright and I thought about my mum driving and wondered how it didn't make her crash."
With dad Dean's help, Felicity devised a solution based around monitoring of wind conditions. "We built a model where one end has a sprinkler that turns on and off depending on what the wind is doing. The wind is the variable."
Using a hairdryer to simulate wind speeds, Felicity's model suggests the sprinklers closest to the road shut down when the wind meets a certain threshold. "On a real irrigator an electronic wind measure would be wired up the last three sprinklers."
As well as demonstrating irrigators can be made safer when the wind strengthens, Felicity's project raised awareness of irrigation amongst her central Christchurch school classmates.
"Only three people in my Year 7 group knew what an irrigator was. When I showed them the model and explained it, they thought it was really good."
Dean Pye, who is a member of the Acton Irrigation Scheme, thinks the approach behind the model could be replicated in real life.
"I think it has commercial merit because it has other advantages for lateral irrigators. You can turn one, two or three sprinklers off, so you don't wet the laneway. And it's simple to do."
Teacher Fiona McKenzie says the Year 7 ethics project prompts the girls to find problems in their community that they want to solve. In this year and others, students have found new uses for coffee grinds, devised a computer game that aids concentration, through to creating more environmentally friendly products for the laundry. But no students have ever focused on irrigation.
"It's got to be something that's quite personal to them. That they have a passion for."
Felicity admits she had been thinking about the topic for quite a while but was initially stumped as to how to proceed. An approach to Irrigation New Zealand saw Project Manager Steven Breneger and CEO Andrew Curtis provide advice. "They seemed really interested and gave me some ideas. But I had to get my mum to explain some of them."
Perseverance paid off however and Felicity is now inspired to carry on with more science projects.
"I quite like fixing problems and finding new ways to do things."
POSTED BY: Jennifer Shepherd Date: 16th Oct 2016